About Sybel's Yoga
Sybel Boss is a yoga instructor who has been practicing yoga for over 27 years. Her formal yoga training is in the vinyasa flow-oriented style of the Ashtanga tradition.
Sybel teaches yoga to professional athletes at IMG Academies and works along with her husband & tennis coach, Red Ayme, and Nick Bollettieri, founder of the Nick Bollettieri Tennis Academy in Florida.
Sybel lives in Florida where she instructs private and group yoga sessions for elite and professional athletes, as well as people of all ages and fitness levels. If you are interested in having a private lesson with Sybel please call for availability. Or if you are going to be visiting the Bradenton/Sarasota area and would like to have a private lesson, please contact her by email or phone.
Why Do Yoga?
The yogis say that you are as young as your spine is flexible.  Aging often does have more to do with how we feel, than it does with the passage of time.  A decrease in flexibility and an increase in tension, stiffness, aches and pains all contribute to the feeling of getting old.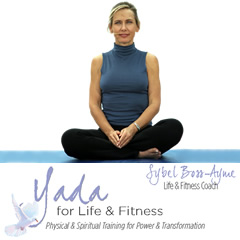 Most chronic pains, even headaches, are associated with the musculo-skeletal system and originates from muscles which remain contracted (stay shortened) even in their "relaxed" state.  Yoga is medicine for your entire body and being.  It stretches and strengthens all of the muscles of your body and brings peace and calm to the mind and spirit.
For athletes as well as every day people who participate in sports, it is especially important that they practice yoga on a regular basis.  One of the most essential elements for athletic performance is balance.  All sports have certain movements that build the body in specific ways.  This can lead to imbalances and possible injuries.  Yoga helps to prevent injuries by bringing balance back to the body along with relaxation and focused concentration for the mind.
Another very important benefit of regular yoga practice is the strengthening of the core (the deep muscles of the torso), the epicenter of the bodies movement, the foundation from which all the strength and skill of a healthy body is built.  In the same way that a chain is only as good as its weakest link, you are only as strong as your core.
Yoga develops strength, suppleness, agility, awareness, and alignment.  It is a great cross training for any sport…giving you a body that is adaptable to any movement.  Try it and I guarantee you will feel a difference and with regular practice you will be astounded by the difference…. Namaste, Sybel
My Life Verse
  "My determined purpose is that I may know Him - that I may progressively become more deeply & intimately acquainted with Him, perceiving & recognizing & understanding the wonders of His Person more strongly & more clearly."  Phil. 3:10 AMP 
Verse of the Day